Dr. Bonnie quotes
Could infidelity sometimes be a blessing in disguise?
Men's Health, March 2015 Read what Dr. Bonnie has to say about infidelity!
Men's Health, December 2014 Read what Dr. Bonnie has to say about Holiday Infidelity.
Men's Health, May 2013 Read what Dr. Bonnie has to say about Turning a Fight into Make Up Sex.
Friday April 12, 2013: Read what Dr. Bonnie has to say about 6 Mother's Day Gifts for Modern Moms in Care.com.
Friday April 11, 2013: Read what Dr. Bonnie has to say about how to defuse a blowout in Cosmopolitan.
Tuesday March 19, 2013 – Dr. Bonnie is quoted in the USA Today about Tiger Woods and Lindsey Vonn

Tuesday February 5, 2013 – Dr. Bonnie is quoted in the Toronto Sun about Annoying Pet Peeves that could kill the romance
Thursday November 15, 2012 – Dr. Bonnie quoted in Toronto Sun about Petreaus isn't the first (or the last): Why powerful men cheat.

Saturday June 30, 2012 – Dr. Bonnie quoted in USA Today about Tom Cruise and Katie Holmes

Wednesday, April 17, 2012 – Dr. Bonnie was quoted in the Chicago Tribune about Couples and Money.
Sunday, February 5, 2012 – Dr. Bonnie was interviewed about Superbowl XLVI's New England Patriot's Bill Belichick and Tom Brady in the New York Times.

Monday, January 23, 2012 Dr. Bonnie is quoted in USA Today about Heidi Klum and Seal's breakup
Friday, November 18, 2011 Dr. Bonnie is quoted in USA Today about Ashton Kutcher and Demi Moore's breakup
Monday July 11, 2011 Dr. Bonnie is quoted in OK Magazine where she spoke about May/December Relationships: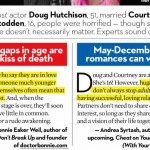 "People who say they are in love with someone much younger than themselves often mean that they're in lust. And, when the honeymoon stage is over, they'll soon find that they have little in common. They're in for a rude awakening.
Wednesday July 6 Dr. Bonnie is quoted in Match.com on What's Your Attachment Style? Read More Here.
Saturday July 2, 2011 Dr. Bonnie is quote in E-Harmony Tips on How To Increase The Frequency of Sex for Long Term Couples . Read more
Tuesday, June 14 , 2011 Dr. Bonnie appeared on CBS New York Channel 2 . Dr. Bonnie spoke about Representative Weiner and why he's risking it all.
May 2011 – Dr. Bonnie is quoted on MarieClaire.com on How To Avoid a Money Meltdown. Read more here.

Thursday, May 5, 2011 in New York Post Honor Mom – or Another 'Daddy' Will by Andrea Peyser. Dr. Bonnie is quoted about husbands who don't pay attention to their spouses on Mother's Day and the ramifications.
Wednesday, February 21, 2011 in OK Magazine, pg. 32 Dr. Bonnie in OK Magazine weighs in Mark Kelly blasting off into space while his wife Rep. Gabrielle Giffords is recovering.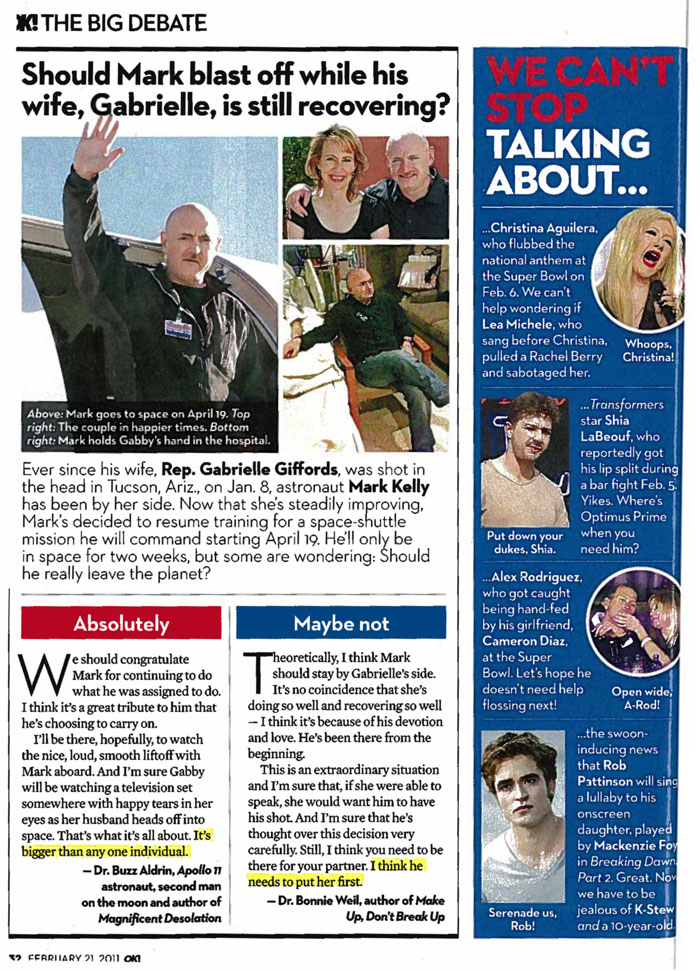 Wednesday, January 17, 2011 in OK Magazine, pg. 30 Dr. Bonnie in OK Magazine talking about Kelly Osbourne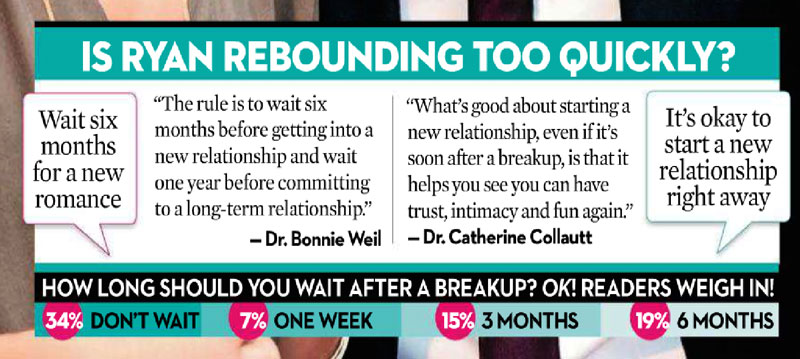 Wednesday, January 19, 2011 in OK Magazine – Dr. Bonnie is quoted about Sandra Bullock and Ryan Reynolds
Friday, December 10, 2010 on PRWeb – Dr. Bonnie Recommends Couples Heed Study Showing Stress Increases the Spread of Cancer
Monday, December 6, 2010 Cosmopolitan Online – Dr. Bonnie on "How to Holiday Proof Your Relationship."
Thursday, December 2, 2010 Yahoo! News – Dr. Bonnie on "A Disturbing Trend of Couples Living Apart Has Long Range Consequences on Children."
Monday, November 22, 2010 The Houston Chronicle – Dr. Bonnie quoted in an article on "Are Cougars Are Becoming an Endangered Species?"
The Best Rx for Relationships (A Guy's Point of View)
by Thomas Hillegass

"We need to talk about our relationship." Is there a sentence hat strikes more fear, trembling and mumbling into the strongest man's soul? But with the right prescription, we can be the stand-up, take charge guys that we normally are, even in the face of the dreaded "relationship" talk.
What is the prescription for a healthy relationship?
In a book I am reading, the little girl, missing her absent mother, says, "Dad, let's play dolls." He's thinking, why not "Let's play baseball cards," or "Let's play demolition derby." These I know – but dolls? He gamely concedes, "Okay, after dinner we'll play one game of dolls."
Playing one game of dolls may seem easy compared with being asked by our significant other to tell them how we are feeling. We would like to know what we are feeling, too! For many of us, we often don't get much beyond "Pick one: mad, glad, sad or bad." Most of the time, with enough reflection, the correct answer is "all of the above," but we don't know how to verbalize this and certainly not in a way that our partner really wants to hear.
Several things are for sure: we like to be good at what we do, we plan to succeed, and we will hang from any convenient ledge to keep our partner happy. But we too often have a feeling of failure when to comes to talking about relationships or feelings. It doesn't come naturally to us and we don't know the rules of the game. We try to fake it 'till we make it – but we may loose our lover before the end of this experimental phase.  Read More
Financial Infidelity
by Dr. Bonnie Eaker Weil
After forty years, there's a new woman's lib – the pendulum swings again.  Familiar and comfortable sex roles around money are being rewritten. We need to change the way we look at male-female power dynamics.  We need a new way to navigate the shift in power due to male-female role reversal and the resulting power dynamic that now faces both couples and singles.  Financial infidelity can be just as harmful as sexual infidelity.
The way out of this struggle is what I call money love language or smart heart dialogue based on Harville Hendrix'sbrilliant Imago Dialogue.  It gives couples a way to maintain attuned contact when they are experiencing problems with intimacy and connection.
Money and intimacy problems are often linked. Men typically feel defined by money.  Research shows that men feel happier in marriage if they are the main breadwinners.  However, today women are earning more than ever before.  In twenty-five percent of households, women are earning half the household income.  They are stepping, not without internal conflict, into the role of breadwinner – in addition to the hours they may already commit to chauffeuring, cooking, and cleaning.  Women are feeling burned out.  Men are feeling demoted and obsolete.  Men are used to being nurtured but now women also require that same nurturing. The fallout from this role confusion is resentment and "financial infidelity" a form of cheating so subtle you don't even know you're cheating.  Read more
June 2010 Match.com– Dr. Bonnie quoted in an article on Realism in the Romantic Comedy!
June 14th, 2010 Babble.com– Dr. Bonnie quoted in an article on Is Divorce contagious?
April 29th USA Today– Dr. Bonnie discusses Sandra Bullock and other celebrities!
April 17th The Today Show– Dr. Bonnie will be featured with her patients speaking on Financial Infidelity!
April 2nd CBS 7:30pm– Dr. Bonnie will be on Entertainment Tonight speaking on Jesse James and Tiger Woods!!
April 4th 2010 – Discovery Health 9pm EST, Documentary on Infidelity featuring Dr. Bonnie and her patients on the devastation of adultery/cybersex on a relationship – show titled "Unfaithful".
February 26, 2010 – Dr. Bonnie featured in an article on CNN.com called "The Secret Lives of America's Debtors".
February 22nd, 2010 –  Dr. Bonnie featured in USA Today as an expert on the outcome of Tiger Woods.
February 19th – Good Day New York featured Dr. Bonnie speaking on Tiger Woods "Forgivable Sin".
June 2010 – A & E Drug Addiction biography featuring Dr. Bonnie – Appearing internationally.
March 2010 – SELF Magazine – Dr. Bonnie talks about Couples who are overcoming their relationship problems.
March 2010 – Women's Health magazine – Dr. Bonnie talks about How to Fight Fairly.
February 13th – Dr. Bonnie Eaker Weil appeared in The Toronto Star in an article titled How to fight with your lover.
February 2010 – Dr. Bonnie Eaker Weil in OK Magazine spoke about Tiger Woods.  Pages 38-39
August 13, 2008 The Huffington Post – Dr. Bonnie quoted in an article on "How Long Should A Partner Be Celibate if their Spouse is Ill? written by Jill Brooke"

---
Dr. Bonnie has appeared on the The Today Show, CBS Saturday Early Show, Oprah!, FoxTV on a 4 day series as a voyeur on dating, and The View .
Her relationship tips and advice has also been featured in Good Housekeeping, The New York Times, New York Daily News, USA Today, Cosmopolitan, Ladies Home Journal, Mens Health, Womens Health, Self, Redbook and Maxim.
Dr. Weil has a thriving practice in New York City, and consults/therapy by phone with singles and couples about their relationships all over the world. She is a distinguished lecturer and consultant.
For more info. regarding telephone relationship therapy
Dr. Bonnie Eaker Weil
30 Waterside Plaza
Suite 12J
New York, NY 10010
Telephone (212) 606-3787
Fax (212) 213-0934
Dr. Bonnie Eaker Weil, was a featured guest on the www.jenandbarbmomlife.com, on March 5, March 19, and April 2, 2009. The shows aired on Parenthood, YouTube, MySpace, Facebook, Blinkx and TOPTVBytes.com. This piece was also nominated for a Webby Award!

The first show from March 5th, 2009 "Do You Communicate With Your Partner?" and sponsored by Kraft. Dr. Bonnie talks about the tools to get husbands to listen and bring back the Honeymoon Phase…This show uses Dr. Bonnie's book Make Up, Don't Break Up.
March 19th Show: "Are You A Parent To Your Parents" – Dr. Bonnie brings insight to taking care of your aging parents and your small children and still having fun, and time for yourself. Dr. Bonnie shows you how with her Make Up, Don't Break Up book.
April 2nd Show: "How Much Did Those Shoes Really Cost?" Dr. Bonnie talks about the Importance of telling the truth about spending and shares tips that make talking about money not so uncomfortable. Dr. Bonnie helps you with her Financial Infidelity book, which is available in hardback and paperback from Amazon.com.
MEDIA APPEARANCES:
Dr. Bonnie has appeared in or on:
• Women's Health April 2010 talking about How To Fight Fairly
• SELF April 2010 talking about Couples Overcoming Their Problems
• Canada AM
• Ladies Home Journal in March 2009, April 2009, November 2009
• Men's Health, March 2009
• SELF Magazine, March 2009; pg. 158
Stressed Out Get a Grip, Stress-Less Strategies
• Redbook May 2009
• Women's Health, April 2009
• Cosmopolitan May 2009
• American Chronicle

She has appeared on WebTalk Radio.net with Philip & Lisa Mulford on Communication 360.
On Saturday February 21: Should You Stay or Should You Go?
Doctor Bonnie talked about the warning signs to help you know when you should stay or when you should go. Most marriages can be saved!