Welcome to Dr. Bonnie Eaker Weil's website!

Dr. Bonnie Eaker Weil is a relationship and marriage counselor that specializes in couple and relationship therapy to bridge intimacy issues keeping relationships thriving. Her practice in marriage and family therapy has helped individuals and couples save their relationships and their marriages. Dr. Bonnie's 98% success rate of couples who stay together speaks to her new theory and possible cure and treatment for adultery; her expertise skills for the narcissistic, and the commitment phobic partner.
How to Have a Winter Affair with Your Partner… and blizzards are perfect for it!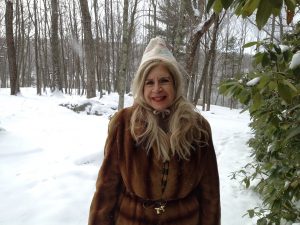 As Storm Stella prepares to blanket the Northeast with snow, I implore you to use it as an excuse to make some long-lasting winter memories! While not being able to get to scheduled appointments – like work, school, meetings, etc – can be stressful, it's important to use the mandatory down-time to rekindle a spark with your significant other. Refocus this downtime and put it to good use. READ MORE
Dr. Bonnie is quoted in Andrea Peyser's column about protecting Baron Trump

Dr. Bonnie was interviewed for an article by Andrea Peyser's column "Melania's first job as first lady is to protect Baron."
Read more here.
Dr. Bonnie in Men's Health….

Dr. Bonnie was interviewed for an article in the Jan/Feb issue of Men's Health. She talked about financial infidelity in relationships and how to talk to your spouse about financial matters. Read more about Financial Infidelity in her book Financial Infidelity available here.
Teaching Empathy to Combat Bullying
Today, on my birthday, I want to talk about something I'm particularly passionate about–something my Mom taught me how to combat tens of years ago: bullying.  I spoke with Andrea Peyser at The New York Post about bullying and its effects over the weekend. Read it here!
Dr. Bonnie's new video on reasons for Financial Infidelity and Gambling Addictions

Financial Infidelity: Is there a Mistress in Your Relationship?



Money is the #1 problem in relationships next to sex— Dr. Bonnie's Smart Heart Skills and Dialogue (money love language) turns the power struggle of money talks into money as an aphrodisiac.
Financial Infidelity is a deception so subtle you don't even realize you're cheating.
Dr. Bonnie addresses the recent shift in power and money between men and women, and exposes the money, sex, and love triangle, helping you to uncover the hidden financial problems in refinancing your relationship and to heal the inevitable emotional fal hlout. Order it here!

The Updated version of the book Make Up Don't Break Up is now available!
With three new exciting chapters including one on the Battles of the Sexes finally solved and groundbreaking statistics on cybersex and adultery, this version of the book is the perfect handbook for saving any relationship.  The book also has an accompanying DVD found within the back cover called How to Fall in Love and Stay in Love for Singles and Couples.
Harville Hendrix, Ph.D. stated,
"This is among the most helpful, complete, and positive manual for saving a relationship that I have seen. Dr Eaker Weil has presented her effective process with such straightforward and simple language, extensive details, and enthusiasm that all singles and couples who read the book cannot help but be inspired to "make up."
Dr. Bonnie's Ed2Go Course on Marriage and Relationships: Keys to Success – Now Available

Looking for an answer for you or your loved one? Get into a real relationship or stay happy in the one you're in. Consider Dr. Bonnie's Ed2Go Course on Marriage & Relationships: Keys to Success. Sign up here.
Learn about the Bio Chemical Craving for Connection and Adultery Tips here
My marriage is sucking the life out of me, should I get a divorce?
Is your spouse unfaithful?




Listen to Dr. Bonnie on Oxygen 365 Show

See what Dr. Bonnie says about Relationships Dr Bonnie on Oxygen 365 Show
Why big-shot husbands will always chase the nanny
See what Dr. Bonnie in the New York Post has to say about big shots here!
7 Good Reasons to Break Up Over Money

See what Dr. Bonnie has to say about Money here!
Could infidelity sometimes be a blessing in disguise?
See what Dr. Bonnie has to say about infidelity in Men's Health here!
Dr. Bonnie talks about Love & Sex: Can Opposites Attract
Watch the video on www.yourtango.com here!

Dr. Bonnie Eaker Weil awarded the US Commerce Assn New York Award 4th year in a row – now she has qualified for the Hall of Fame!
Bonnie Eaker Weil PhD is among a very small group of companies that have won the New York Award in consecutive years. This distinction has qualified Bonnie Eaker Weil PhD for the 2014 New York Business Hall of Fame. To commemorate your inclusion in this elite group an exclusive Hall of Fame Award, available only to Hall of Fame inductees, has been created.
 Dr. Bonnie Eaker Weil quoted in USA Today.

Read what Dr. Bonnie has to say about Michael Douglas and Catherine Zeta-Jones separation here .
Dr. Bonnie Eaker Weil course on Marriage and Relationships on Ed2Go.com is Released!
Dr. Bonnie's course "Marriage and Relationships: Keys to Success" a 6-week course has been released by Ed2Go.com. Check out the course material here.
Watch for Dr. Bonnie!
Dr. Bonnie Eaker Weil will be showing up on Oprah's OWN Network and the Huffington Post.
Dr. Bonnie is also on the Best of Oprah on OWN beginning May 21, 2013.
Dr. Bonnie quoted in Men's Health
Read what Dr. Bonnie has to say about Turning a Fight into Make Up Sex in Men's Health, May 2013.
Dr. Bonnie quoted in Care.com
Read what Dr. Bonnie has to say about 6 Mother's Day Gifts for Modern Moms. Click here
Dr. Bonnie quoted in Cosmopolitan
Read what Dr. Bonnie has to say about how to defuse a blowout. Click here
Dr. Bonnie quoted in USA Today

Read what Dr. Bonnie has to say about Tiger Woods and Lindsey Vonn. Click here
Experts Sound Off on Money and Dating
Hear what Dr. Bonnie and other experts have to say about Money and Dating. Click here
The Future of Personal Development
Check out this multi-media ebook experience and get the most precious pieces of wisdom from 21 authors and "Transformers of Consciousness" in short video clips, short articles and quotes. This reading experience is fun and exciting and you'll get each author's hottest advice for this year and beyond!
Dr. Bonnie's book Make Up, Don't Break Up is voted "Best Dating Book of 2010" by NY Times Company

Dr. Bonnie's book, "Make Up, Don't Break Up", a dating book for singles, married and unmarried couples, was voted as the Best Dating Book in 2010 by About.com a part of the New York Times Company. Thank you all for all your votes which helped us win this coveted title.
ADULTERY IS CURABLE!
Doctor Bonnie is also known as "The Adultery Buster". Adultery is a disease that can be cured! Check out Dr. Bonnie's other web site about adultery: Adultery Busters!
Annoying pet peeves that could kill the romance
Hear what Dr. Bonnie has to say about this in the Toronto Sun. Click here
Download a pdf of the Toronto Sun article annoyingpetpeeves_torontosun
Dr. Bonnie's works with couples and individuals on:
• Relationship Therapy
• Individual Therapy
• Couples Counseling
• Break Up Help
• Pre-Marital Counseling
• Separation Counseling
• Divorce Counseling
• Parenting Issues
• Adultery Counseling
• Straight Couples Therapy
• Gay Couples Therapy
• Drug Addiction
• Alcohol Addiction, Alcoholism
• Post Traumatic Stress Disorder (PTSD)
• Workaholism – Workaholic
• Foodaholic – Food Addiction
• Teaching Families New Techniques to Work with Children
• Narcissism and Narcissistic Behaviors
• Anger Management
• Sexual Healing for Couples
• Forgiveness After The Affair
• Restoring Passion and Intimacy
• Communication and Intimacy for Men and Women
For PR or Immediate Attention, call Dr. Bonnie at 917-538-5842
For appointments or a consultation, contact us at 212-606-3787
Relationship Questions & Answer from Doctor Bonnie
Question: Dr. Bonnie, my husband and I have been together for 10 years and have 3 adorable children.  The issue is our sex life is obsolete these days. I feel like I'm providing a dissatisfaction to my husband as I have no interest in having sex.  He goes out sometimes when he gets home, I will act like I'm sleeping as I don't have any interest.  Will I ever be able to get these feelings back or is this a sign that maybe I should move on as we weren't meant to be?
Answer: Thank you for contacting me.  I don't believe it is the fact that you don't make the time, but it's that you don't get excited anymore.  Sex needs to be thought of in an exciting way by adding novelty and excitement to your relationship, there should be no resentment.  Resentment tends to occur in long term relationships as the wife feels the husband does less around the house and with the kids.  You need to learn to compartmentalize any of those feelings.  Nobody wants to be in a relationship with boredom and resentment.  You and your partner need to learn to fight fair and not air resentment. If a couple does not learn to fight fair there is no passion as conflict creates passion.  The best sex is after a good fight! Don't use sex as leverage as an orgasm is a gift you give yourself as well.  Fourplay is also important, no matter the years of history you have together.  It is important to keep kissing for the oxytocin hormone, hugging for the dopamine hormone.  If it has been a while since making love, the brain also needs to be retrained.  Frequency of romantic encounters with your partner are a must, so the brain is still in tune.
Award Mrs. P a valor medal
– New York Daily News, Thursday Nov. 22, 2012. Read about it here!
Petreaus isn't the first (or the last): Why powerful men cheat
– Toronto Sun, Thursday Nov. 15, 2012. Read about it here!

Dr. Bonnie quoted in USA Today about Tom Cruise and Katie Holmes
Read about it here. Or view the article here
Dr. Bonnie quoted in Chicago Tribune about Couples and Money
Bonnie Eaker Weil PhD Receives 2012 Best of Manhattan Award
U.S. Commerce Association's Award Plaque Honors Dr. Weil  for the Second Consecutive Year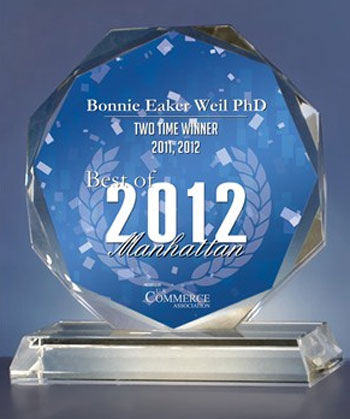 NEW YORK, NY, April 3, 2012 — For the second consecutive year, Bonnie Eaker Weil PhD has been selected for the 2012 Best of Manhattan Award in the Physicians category by the U.S. Commerce Association (USCA).
The USCA "Best of Local Business" Award Program recognizes outstanding local businesses throughout the country. Each year, the USCA identifies companies that they believe have achieved exceptional marketing success in their local community and business category. These are local companies that enhance the positive image of small business through service to their customers and community.
Nationwide, only 1 in 70 (1.4%) 2012 Award recipients qualified as Two-Time Award Winners. Various sources of information were gathered and analyzed to choose the winners in each category. The 2012 USCA Award Program focuses on quality, not quantity. Winners are determined based on the information gathered both internally by the USCA and data provided by third parties.
Doctor Bonnie has a video on the Huffington Post! Watch it here.
Dr. Bonnie's Relationship Tips:
"Social media affects cheating as it is like a kid in a candy store, It is a cry for help, and a way to be found out when adultery is the problem.  People can be found out a lot sooner because everybody is their own snoop and private investigator/lawyer.  The world wide web is an open book!"
If you have been cheated on in the past, Dr. Bonnie provides tips on how to move on and protect yourself from it happening again:

Discovery Health OWN Network
Dr. Bonnie featured therapist on "Unfaithful" Watch it here

Read Dr. Bonnie's Relationship advice in

Cheating is not an accident, it is a choice
Dr. Bonnie Eaker Weil (Dr. Bonnie) is a relationship expert known as one of America's best therapists, and by New York Magazine as one of New York City's best therapists. Known as "The Adultery Buster" and the "No. 1 Love Expert," she is the best-selling author of Adultery: The Forgivable Sin (adapted into a Lifetime movie starring actress Kate Jackson), Make Up Don't Break Up, Finding and Keeping Love for Singles and Couples (Revised edition Feb 2010, including DVD How to Fall in Love and Stay in Love for Singles and Couples), Can We Cure and Forgive Adultery?, Staying Not Straying, How Not to (S)mother Your Man and Keep a Woman Happy, and Financial Infidelity; The #1 Relationship Wrecker.
Dr. Bonnie has appeared on ABC's Good Morning America, a three-day series on NBC's The Today Show, The Oprah Winfrey Show five times, a four day series on Fox TV regarding dating. She appears frequently on ABC, Fox, CBS and NBC News, The View, 20/20, and CNN.
Her cutting edge skills have been featured in The New York Times, New York Magazine, USA Today, Cosmopolitan, Redbook, People and Ladies' Home Journal.
In her book, Make Up, Don't Break Up, Dr. Weil takes you step by step through a new understanding of relationships-the mysterious process of connecting, why men disconnect and how to educate them to reconnect/connect (Connectible by instruction)- to help you find and keep the lasting love you want.
Dr Bonnie's approach turns the conventional wisdom of finding and sustaining love- upside down:
Men and women are more alike than different in their needs for love and intimacy.
Why women should make the first move.
Understanding your relationship with your parents is an essential step in finding and keeping love.
Communication isn't everything – you can talk a relationship to death!