Welcome to Dr. Bonnie Eaker Weil's website!
Dr. Bonnie Eaker Weil is a relationship and marriage counselor that specializes in couple and relationship therapy to bridge intimacy issues keeping relationships thriving. Her practice in marriage and family therapy has helped individuals and couples save their relationships and their marriages. Dr. Bonnie's 98% success rate of couples who stay together speaks to her proven system, and groundbreaking work including that adultery is a disease that can be prevented and cured! She provides support on the phone to clients all over the world.
Click here to email Dr. Bonnie to see if a complimentary phone consultation is a match for you.
The Updated version of the book Make Up Don't Break Up is now available!
With three new exciting chapters including one on the Battles of the Sexes finally solved and groundbreaking statistics on cybersex and adultery, this version of the book is the perfect handbook for saving any relationship.  The book also has an accompanying DVD found within the back cover called How to Fall in Love and Stay in Love for Singles and Couples.
Harville Hendrix, Ph.D. stated,
"This is among the most helpful, complete, and positive manual for saving a relationship that I have seen. Dr Eaker Weil has presented her effective process with such straightforward and simple language, extensive details, and enthusiasm that all singles and couples who read the book cannot help but be inspired to "make up."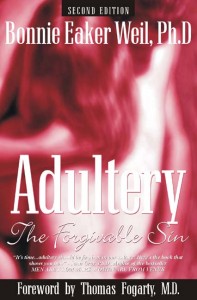 Adultery The Forgivable Sin – Second Edition
by Dr. Bonnie Eaker-Weil
"This is a humane, compassionate, and very practical book. Insightful and useful to all—couples and singles—recovering from the ravages of infidelity."
Harville Hendrix, Ph.D. Best selling author of "Getting the Love You Want: A Guide for Couples"
In this ground breaking new edition Dr. Weil reveals how to overcome the pain of betrayal and learn to heal the rift that adultery causes in a relationship. Statistically, only 35% of unions survive an affair. By teaching you and your partner the gift of forgiveness, Dr. Weil's proven methods will increase the odds to a happy 98%, with a healthier, more intimate relationship. This book provides practical exercises to cushion the pain and her innovative therapy for children you can do at home.
Dr. Weil teaches you how balancing brain chemicals can help to finally cure the epidemic of adultery and get you to "feel" so you can fall back in love with your partner! Learn how to create the same chemicals we make when we are truly happy or in love. Find out how to have an affair with your own partner!



from Amazon.com.
Who is Doctor Bonnie and why she can help you!
Dr. Bonnie Eaker-Weil (Dr. Bonnie) is a relationship expert known as one of America's best therapists, and by New York Magazine as one of New York City's best therapists.  US Commerce Association voted Dr. Bonnie Best Therapist 2011-2017.
Known as "The Adultery Buster" and the "No. 1 Love Expert," she is the best-selling author of Adultery: The Forgivable Sin (adapted into a Lifetime movie starring actress Kate Jackson), Make Up, Don't Break Up: Finding and Keeping Love for Singles and Couples, Can We Cure and Forgive Adultery?, Staying Not Straying, How Not to (S)mother Your Man and Keep a Woman Happy, and Financial Infidelity; The #1 Relationship Wrecker.
Dr. Bonnie has appeared on ABC's Good Morning America, a three-day series on NBC's The Today Show, The Oprah Winfrey Show five times, a four day series on Fox TV regarding dating. She appears frequently on ABC, Fox, CBS and NBC News, The View, 20/20, and CNN.
Her cutting edge skills have been featured in The New York Times, New York Magazine, USA Today, Cosmopolitan, Redbook, People and Ladies' Home Journal.
In her book, Make Up, Don't Break Up, Dr. Weil takes you step-by- step through a new understanding of relationships – the mysterious process of connecting, why men disconnect and how to educate them to reconnect/connect. Her phone based integrative system will help you find and keep the lasting love you want.
Dr. Bonnie's approach turns the conventional wisdom of finding and sustaining love- upside down:
Men and women are more alike than different in their needs for love and intimacy.
Why women should make the first move.
Understanding your relationship with your parents is an essential step in finding and keeping love.
Communication isn't everything – you can talk a relationship to death!
Adultery is a disease and needs to be treated on all levels. Dr. Bonnie's Ground breaking system  can prevent and treat adultery and help heal the relationship, and it can be cured.
You can turn your relationship around if you both are willing to learn and apply simple communication skills that will help you in any relationship you have at home or at work!
Learn about the Bio Chemical Craving for Connection and Adultery Tips here
 Dr. Bonnie's book Make Up, Don't Break Up is voted "Best Dating Book of 2010" by NY Times Company

Dr. Bonnie's book, "Make Up, Don't Break Up", a dating book for singles, married and unmarried couples, was voted as the Best Dating Book in 2010 by About.com a part of the New York Times Company. Thank you all for all your votes which helped us win this coveted title.
For PR or Immediate Attention, call Dr. Bonnie at 917-538-5842
For appointments or a consultation, contact Dr. Bonnie at 212-606-3787